| | | | |
| --- | --- | --- | --- |
| Spanish Championship Under 14 | | | |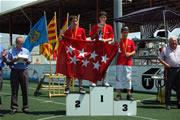 We would like to congratulate the CTTAM´s young archers for their excellent presence in the National Championship under 14 years.
Last weekend, 5-6 of July, the XX Spanish Championship under 14 years was celebrated in Cambrils. Once more, our archers achieved great results and almost all of them managed to step on the podium.
Analytically the classifications of our champions were:
Álvaro Nieto, Compound Men, 1st place
Clara Nieto, Compound Women, 1st place
Diego Nieto, Compound Men, 2nd place
Beatriz Rodríguez, Recurve Women, 2nd place
Raúl Gutiérrez, Compound Men, 3rd place
Guillermo Gil, Recurve Men, 3rd place
Guillermo Gil, Beatriz Rodríguez y Javier Gonzalez, Recurve Team, 3rd place.
Congratulations to all of them!