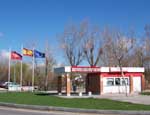 The outdoor field in Puerta de Hierro has been and continues to be the usual spot for all the technical and competitive activities that take place under the auspices of the Archery Federation of Madrid. Autonomous competitions, competitions organized by the Community of Madrid, concentrations of the cadet, junior and senior archery teams of Madrid during the phases of their preparation for the respective national championships, are included among those activities.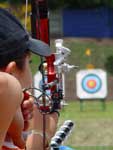 Therefore, no other scenery could be better or more qualified than this, to host the Archery Excellence Center of Madrid (CTTAM), that has as major objectives, the preparation of high level archers, regionally but also nationally, and the discovery, training and development of young talents in archery. It's a project, conceived and directed by professionals of renowned capacity, intending to promote an attractive and challenging Olympic Sport. El CTTAM in Puerta de Hierro, balances between the training of elite athletes and the creation of a young talent nursery garden.
An archer can apply to FMTA individually or through his club, in order to be admitted in the Development Program of the Center. The Federation will evaluate the sport performance of the applicant, his potential of improvement and his capacity to adopt the philosophy of the work in the CTTAM, and according to these criteria will determine the acceptance or not of the athlete in the annual plan that is developed in the CTTAM. The main part of the training will be done in afternoon, between 16:00 and 21:00 due to the work and study obligations of the athletes, and during the whole weekend.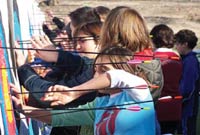 But the CTTAM in not addressed only to elite. The project is enriched with Talent Detection Programs, generally with two or three concentrations of young archers annually who are dedicated to this sport and can exploit their natural talent working rationally and professionally according to the philosophy that dominates the activities of the CTAAM. The athletes personally selected by the technical team of the Center- are aged between 9 and 15 years, ages that are considered to be ideals to start the practice of this sport. This project includes the periodical visit of the coaches of the CTTAM to educational centers of the Community of Madrid to promote the interest, the devotion and the joyful practice of archery among the youngsters.